Artificial intelligence technology behind ChatGPT was built in Iowa — with a lot of water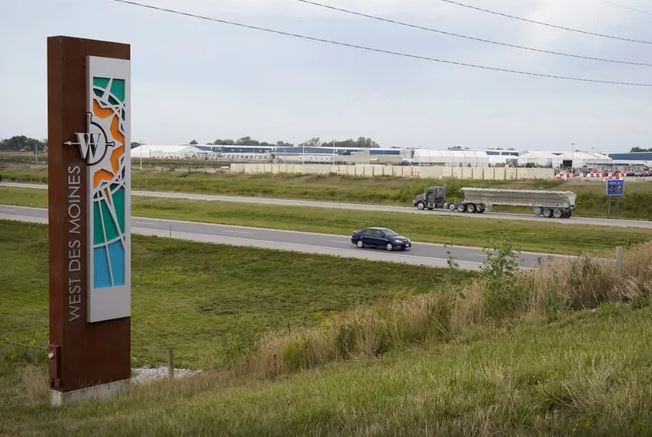 September 10, 2023
The cost of building an artificial intelligence product like ChatGPT can be hard to measure.
But one thing Microsoft-backed OpenAI needed for its technology was plenty of water, pulled from the watershed of the Raccoon and Des Moines rivers in central Iowa to cool a powerful supercomputer as it helped teach its AI systems how to mimic human writing.
As they race to capitalize on a craze for generative AI, leading tech developers including Microsoft, OpenAI and Google have acknowledged that growing demand for their AI tools carries hefty costs, from expensive semiconductors to an increase in water consumption.
But they're often secretive about the specifics. Few people in Iowa knew about its status as a birthplace of OpenAI's most advanced large language model, GPT-4, before a top Microsoft executive said in a speech it "was literally made next to cornfields west of Des Moines."
Building a large language model requires analyzing patterns across a huge trove of human-written text. All of that computing takes a lot of electricity and generates a lot of heat. To keep it cool on hot days, data centers need to pump in water — often to a cooling tower outside its warehouse-sized buildings.
In its latest environmental report, Microsoft disclosed that its global water consumption spiked 34% from 2021 to 2022 (to nearly 1.7 billion gallons, or more than 2,500 Olympic-sized swimming pools), a sharp increase compared to previous years that outside researchers tie to its AI research.
"It's fair to say the majority of the growth is due to AI," including "its heavy investment in generative AI and partnership with OpenAI," said Shaolei Ren, a researcher at the University of California, Riverside who has been trying to calculate the environmental impact of generative AI products such as ChatGPT.
In 2022, a document from the West Des Moines Water Works said it and the city government "will only consider future data center projects" from Microsoft if those projects can "demonstrate and implement technology to significantly reduce peak water usage from the current levels" to preserve the water supply for residential and other commercial needs.
Microsoft said Thursday it is working directly with the water works to address its feedback. In a written statement, the water works said the company has been a good partner and has been working with local officials to reduce its water footprint while still meeting its needs.
---