As West Des Moines Affordable Apartment Complex Celebrates Opening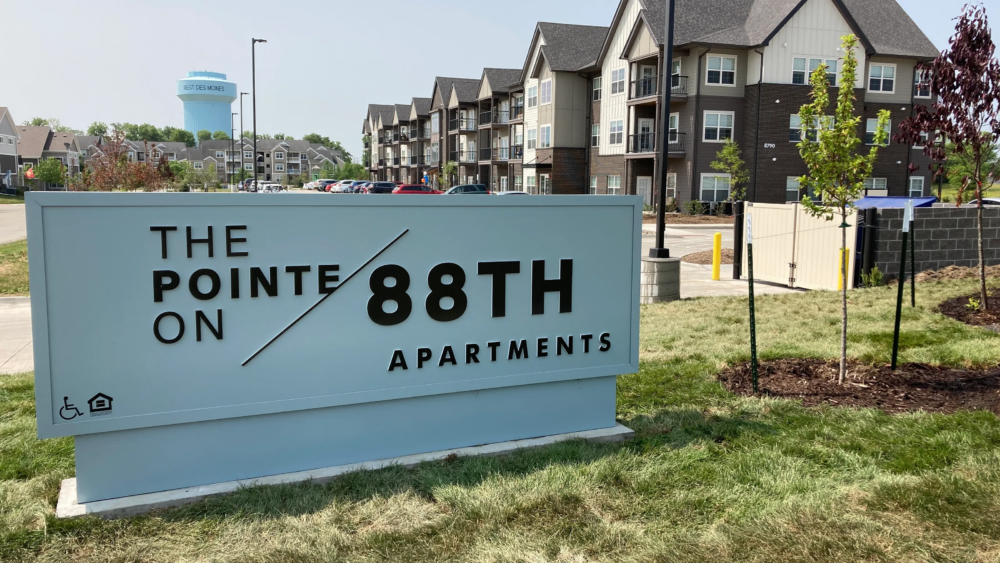 June 16, 2023
A new mixed-income apartment complex in West Des Moines had its grand opening Thursday, though most of its units are already booked.
The Pointe on 88th is a three-story, 49-unit development located at 520 88th St., on the far west side of the city just south of Interstate 80. Just over half of its units have two bedrooms, and the rest are one- and three-bedroom units.
Five units rent at market rate but the other 44 are for renters earning 30% to 60% of the area median income ― about $14,785 to $29,572, based on U.S. Census figures.
That means a two-bedroom unit would be available for $536 to $977, compared to the market rate of $1,150, according to a flyer available Thursday. The standard for affordable rent is that it should absorb no more than one-third of a person's monthly income.
Property manager Staesha Christianson said Thursday that all but three units had been leased and half of all units were already occupied after the first became available May 15.
"The need is always present" for more affordable housing in the community, and any number of new units that become available help, said West Des Moines City Council member Greg Hudson, who represents the Second Ward, where the Pointe on 88th is located.
Hudson pointed to another nearby complex under construction that he said would only be available to people over the age of 55 and also has an affordable housing component: Grace Creek Senior Apartments, located near the intersection of Ashworth Road and South 88th Street.
Many tenants work for Amazon, WesleyLife
Indianapolis-based TWG Development announced the start of construction of the $11 million Pointe on 88th project in January 2022.
It was the company's 12th project in Iowa, according to a statement at the time from Graham Parr, development analyst at TWG.
Ryan Kelly, vice president of tax credit development at TWG, said Thursday that a collaboration between developers and government is what makes affordable development possible. The Pointe's amenities include a library, playground, community room and business center.
Christianson said she's seen a lot of Amazon and WesleyLife medical employees as tenants.
Tenants at the Pointe pay gas and electric utilities but get a free wi-fi package. Water, trash and sewer service is covered by their rent.
From the Des Moines Register
---