West Des Moines one of first U.S. cities to get Google Fiber's ultra-fast 8-gigabit service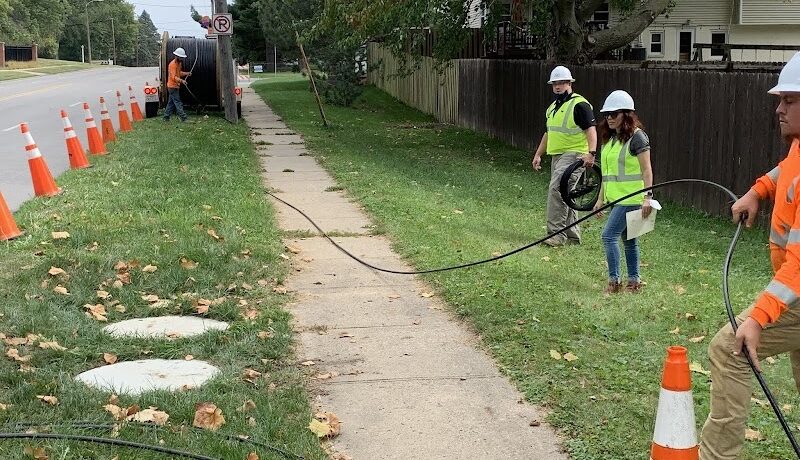 West Des Moines is now one of only two U.S. cities where Google Fiber customers can tap into the company's ultra-fast 8-gigabit broadband service, the company has announced.
The upgrade, also offered in Mesa, Arizona, comes a year after Google Fiber brought its service to West Des Moines with 1- or 2-gigabit speeds, which are around 100 times faster than the average broadband connection, and a little less than two months since it began offering 5-gigabit service, as well.
The 8 gigabit internet service can download and upload up to 8,000 megabits per second. The New York Times recently reported that 195 megabits per second is the median fixed broadband speed in the U.S., and it takes 1,000 megabits to equal 1 gigabit.
"There's a tremendous amount of bandwidth" a gigabits speeds, said Nick Saporito, Google Fiber head of multi-gig and commercial products. "Historically when you get into connections up to 8, 10 gig, that's historically been reserved for large enterprise clients at other" internet service providers.
With 1 gigabit internet a user can download a 2 1/2-hour movie in 2 1/2 minutes, but with 8 gigabit internet that download time is 16.8 seconds, said Kelli Kolich, a spokesperson for the company.
Eight -gigabit internet is tailored to professionals who work from home, like data scientists or engineers who work on virtual machines in a data cloud, Saporito said, but anyone can benefit.
"The usage for a home tends to be higher than a small business because homes are streaming all the time, gaming, doing all these content-heavy things that not all businesses do" Saporito said. "It's surprising how many things in the home use the internet these days."
Of course, speed comes at a price. The monthly charge for 8-gigabit service is $150.
Google Fiber is currently in 20 U.S. markets. Plans have been announced to expand to six more, including Des Moines and Council Bluffs.
Service require upgrade to West Des Moines network
The rate of change in optic fiber networks, like the speeds they offer, also has been super-fast. Though both West Des Moines and Mesa are among Google newest markets, Mesa's network was designed to support the ultra-fast service. West Des Moines', launched a year ago, wasn't.
"Because of the timing of that market when it launched, it didn't necessarily get the latest and greatest network architecture on our side," Saporito said, so it was ripped out and upgraded to the new standard.
"That's really a testament to how important it is that our new markets, which West Des Moines was our first new market in quite some time, got our latest and greatest network architecture. So that enabled us to offer 8 gig in those two cities first," he said.
Saporito did not say how many customers Google Fiber has in West Des Moines, but that the company is happy with the way launch went. In September, it started construction of its fiber-optic internet network in Des Moines, beginning with the south of Grand neighborhood and then moving on to Ashworth Park. Customers should be able to start receiving the service this summer, Kolich said. Saporito said 5- and 8-gigabit internet will be available.
Construction in Council Bluffs will begin in early 2024, Kolich said.
Coming: even faster service. Saporito is testing 20-gigabit internet at his house in Kansas City, Missouri.
"We're moving full steam ahead," he said. "The future is multi-gig and we're going to be a big part of that."
From the Des Moines Register
---