City of West Des Moines and Microsoft Partner to Expand Wi-Fi Access in Valley Junction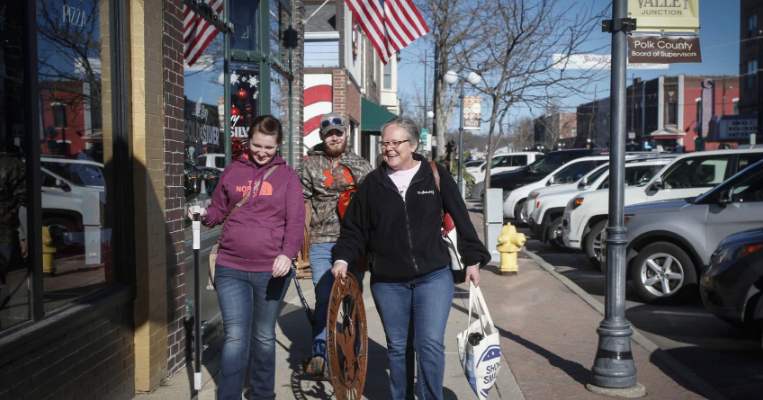 Pilot project addresses broadband accessibility and affordability for students and community residents
The City of West Des Moines and Microsoft Corp. announced a new partnership as part of the City's initiative to address gaps in availability of high-speed broadband for students, residents and businesses. The pilot project will expand Wi-Fi service in the Valley Junction neighborhood.
The project was borne from economic and development planning discussions between the City and the West Des Moines Leadership Advisory Board (WestLAB). WestLAB identified broadband infrastructure as a priority for retaining and recruiting businesses and citizens. WestLAB recognized that high-speed broadband service is seen as the "fourth utility," and access to affordable broadband service is foundational to enhancing economic and educational opportunities.
"Access to high-speed broadband service is critical to success in today's world," said Steve Gaer, Mayor of West Des Moines. "So much of our everyday lives – from banking and commerce to communication, education and entertainment – requires access to reliable broadband service. We want to ensure that high-speed broadband is available to all of our residents and businesses so that everyone has the best opportunity to be successful."
The Valley Junction neighborhood was selected for the project because of the area's historical significance to West Des Moines and because of the lack of new investment in affordable high-speed broadband options for the neighborhood's students, residents and businesses. Valley Junction also has a high-concentration of students from low and moderate-income families. One of the target goals of the project is to enhance educational opportunities and outcomes for students in the neighborhood. The pilot will also provide a research base that the project partners can use to determine the most cost-effective ways to continue to increase broadband access in West Des Moines and other communities.
Funding for the first year of the project is anticipated to be $400,000 and will be supported by a Community Development Block Grant (CDBG) from the U.S. Department of Housing and Urban Development and a cash contribution from Microsoft. Additional partners in the project include the Historic Valley Junction Foundation, West Des Moines Community School District, Aureon Network Services, and Ovation Networks. Aureon is providing access to its fiber network for the Wi-Fi project, and Ovation Networks will operate the community Wi-Fi system. The School District will facilitate student access and the Historic Valley Junction Foundation will administer the private funding. This is a first-of-its-kind project for the Des Moines region, bringing together public and private resources to address community broadband needs.
Microsoft is committed to building community partnerships and investing in projects that deliver economic, social, and environmental benefits to the communities in which Microsoft operates datacenters. Microsoft joined the project after approaching the City of West Des Moines about opportunities to invest in the community.
"West Des Moines is an important community for Microsoft. We are pleased to be part of a public-private initiative to narrow the broadband gap for underserved parts of the community," said Mike Miles, General Manager, Datacenter Community Development, Microsoft Corp. "As the world is increasingly digital, Microsoft is committed to closing the broadband gap to ensure that everyone has an opportunity to participate."
The initial component of the pilot project is a community Wi-Fi system that will provide free access for all students and residents at multiple locations in Valley Junction. A second component of the pilot is a project with the School District, Microsoft, and T-Mobile's EmpowerED™ program to provide free mobile Internet devices and data plans for low and moderate-income students. A future component of the project is point-to-point high-speed Wi-Fi access to the home for low and moderate-income students and their families.
Planning and design for the community Wi-Fi system is complete, and initial implementation and testing are slated to start in July. System build-out and testing will continue into September, with system launch anticipated in October. The first year of the project will provide information, including user experiences, that will inform expansion of this project and planning for future projects.
About the City of West Des Moines
West Des Moines is a rapidly developing community located in Polk, Dallas, Madison and Warren counties. The population of West Des Moines is 65,608 people, the eighth largest city in Iowa. The City of West Des Moines offers excellent employment opportunities; a diversity of housing; quality school districts; and a variety of entertainment options, such as dining, shopping, recreation, parks, trails and cultural activities. West Des Moines has one of the lowest unemployment rates in the Midwest with more than 61,000 jobs in the community. For more, please visit: www.wdm.iowa.gov.
About Microsoft
Microsoft enables digital transformation for the era of an intelligent cloud and an intelligent edge. Its mission is to empower every person and every organization on the planet to achieve more. For more information, please visit: www.microsoft.com.
---